The Pleasures of Santa Lucia Highlands Pinot Noir
Mouthwatering richness and freshness typify the region's most renowned wines.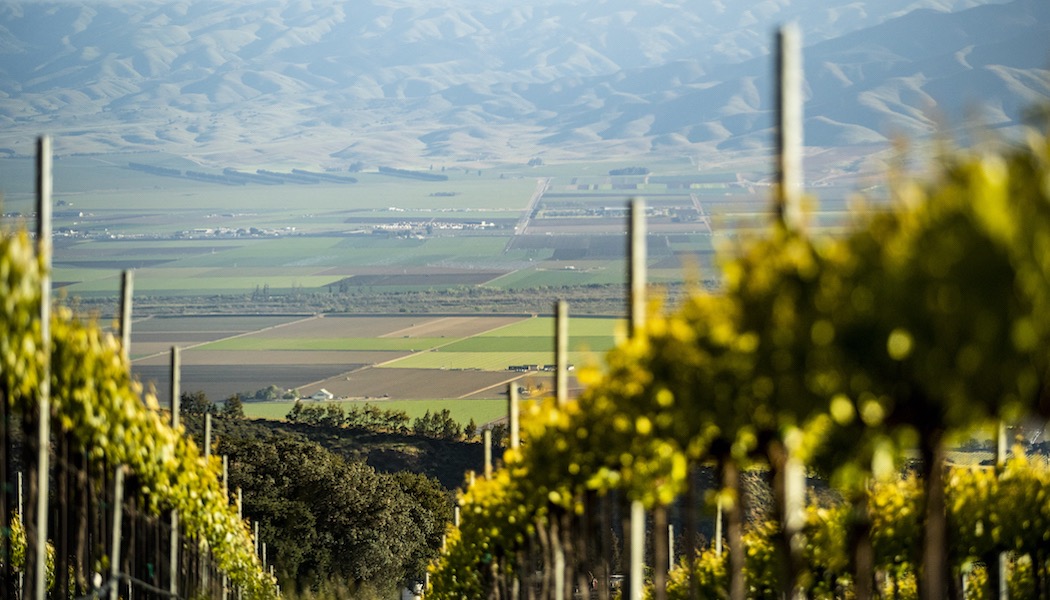 It's no accident that more than half the acres planted to grapes in the Santa Lucia Highlands are Pinot Noir vines. The region has been praised by critics around the world for the unique and outstanding quality of the best Pinot Noir wines from the Santa Lucia Highlands.
Pinot Noir in the Santa Lucia Highlands
The appellation offers dreamy conditions for growing this sometimes-challenging grape, including its cool, coastal climate, foggy nights and mornings and persistent daytime wind that moderates the warm sunshine and ultimately slows down ripening.
First, as regions to the south of the Santa Lucia Highlands warm up each day, this creates a vacuum effect that pulls cooler air down the Salinas Valley from the Monterey Bay. That brings along stiff afternoon winds that moderate daytime temperatures so that the warmest part of the day is not only earlier, but shorter than most other cool-climate regions on the Pacific Coast. Next, the fog gently rolls in the evenings and hovers around overnight and into the morning hours protecting the grapes.
All of these climatic influences combine to create a longer growing season, beginning with bud break in late February and harvest into late October, allowing the Pinot Noir grapes to develop full, phenolic ripeness.
Additionally, the relentless wind has a particular influence on the grape skins—where wine gets nearly all of its flavor—by changing its structure and further enhancing flavor development.
Single Vineyard Pinot Noir
Pinot Noir grapes are grown throughout the entire Santa Lucia Highlands appellation, expressing varying characteristics from vineyard to vineyard, which can range from stronger tannins in the higher elevations where the soils are thinner and the temperatures are cooler to more intense fruit flavors from vineyards where pockets of vines are protected by the wind and are slightly warmer. Many producers make wines from single vineyards, which allows for an incredible opportunity to compare and taste and understand a particular place.
Pinot Noir wines from Santa Lucia Highlands are praised for their richness, silky texture, vibrant red fruit flavors, subtle earthiness and warm spice characteristics.
Consistent Climate
The Santa Lucia Highlands enjoys a unique climate, influenced heavily by the nearby Monterey Bay: daily fog, wind, moderate temperatures, sunshine and little rain pressure during the growing season. Mother nature is incredibly consistent here, and that's a benefit for quality from vintage to vintage.
The Wine Spectator consistently rates Pinot Noir from the Santa Lucia Highlands among the best of the vintage, year after year.