Our Vineyards
A Culture of Innovation The tiny Santa Lucia Highlands AVA spans 22,000 acres, with only 5,750 planted to grapevines on the sloping eastern-facing mountain hillsides from 40-2,330 feet of elevation. Pinot Noir predominates with 3,300+ acres under vine, but Chardonnay is also well represented with more than 2,000 acres planted. These cool-climate varietals thrive in the brisk maritime air and produce exceptionally powerful, elegant wines. The region's vineyard properties are owned by dedicated viticulturalists who grow grapes for some of the most prominent vintners across California and produce wines under their own labels. Our region's long history of farming means that sustainability and innovation have always been a priority. Here, our winegrowers embrace both technology and sustainability, viewing innovation as a means to improve wine quality and the ecosystem together. Like our wines, we're Californians to the core.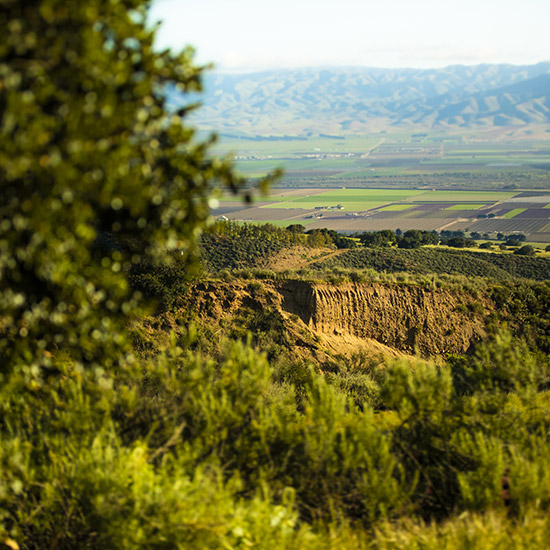 Dominant Soils
Chualar Loam
Deep sandy loams occurring on alluvial fans and stream terraces at elevations of 50 to 2,000 feet.
Arroyo Seco Gravelly Loam
Calcareous sandy loams formed in granite alluvial fans at elevations of 100 to 3,000 feet.
Placentia Sandy Loam
Duplex sodic sandy loams forming in alluvium from granite on moderately sloping fans and terraces.