The Santa Lucia Highlands AVA
The Santa Lucia Highlands perches on the east-facing terraces of the Santa Lucia mountain range to the south of breezy Monterey Bay on California's central coast. Spanish missionaries and conquistadors planted the first vinifera winegrapes here in the 1790s, but for the next two centuries, we focused more on vegetable farming than on viticulture. But thanks to a small pioneering group of farming families (Nicky Hahn at Hahn Estate, Rich and Claudia Smith at Paraiso, the McFarland family at Sleepy Hollow and Phil Johnson at La Estancia), the region's winegrowing potential was truly discovered in the 1970s. Over the next 20 years, vintners from other regions joined local ranching and farming families with the Pisonis establishing the next wave in the early 1980s and others including the Franscionis, Manzonis, Morgans, Boekenoogens developing that potential into the renowned winegrowing region it is today.
In 1992, the federal government officially approved the Santa Lucia Highlands as an American Viticultural Area (AVA). Today, the Santa Lucia Highlands AVA includes approximately 5,700 acres of vinifera grapevines, predominantly Pinot Noir and Chardonnay.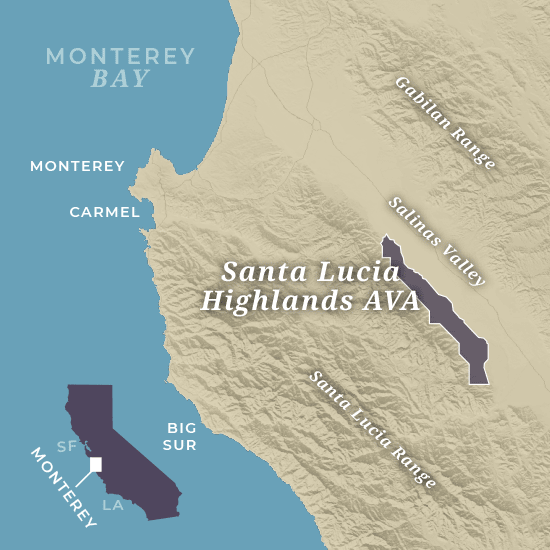 Facts
Established
1991
First Commercial Plantings
1973
Acres
22,000
Planted Acres
5,750
Length
18 miles long
Elevation
40-2,330 feet above sea level
Climate
Cool Region 1, semi-arid
Maritime Influence
Fog and wind from Monterey Bay, moderate temperatures
Annual Rainfall
12-14 inches
Budbreak
late February - early March
Harvest
September - October