Sommelier Tour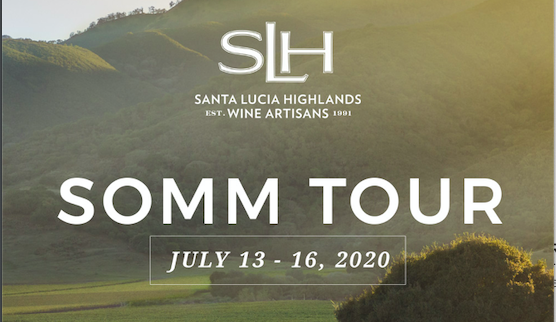 Each year, the country's top Sommeliers discover why the Santa Lucia Highlands is California's top-rated Pinot Noir appellation. Sommeliers and wine directors from leading restaurants and retailers are invited to apply for a spot on the 2020 SLH Somm Tour – two and a half educational days exploring our small but mighty cool-climate winegrowing region.
Visit the must-know properties, chat with the winegrowers in their homes and vineyards, and experience the signature sun and wind of our maritime terroir firsthand. Go deep with the winemakers on yeasts and clones, and geek out with the growers on soils, climate, trellising. Learn the latest on viticultural technology and sustainability from farmers who have embraced both for generations.
Compare single-vineyard bottlings, and sample library wines from top producers to explore the range and versatility of our cool-climate varietals. Discover local food, customs, and an astonishing assortment of fine wines in authentic and unpretentious settings.
*Lodging, meals, and transportation during this tour are provided courtesy of the Santa Lucia Highlands Wine Artisans, a collective of more than 40 growers and associate members. Participants are responsible for their own transport to and from Monterey County. Applicants must be emloyed as a primary wine buyer at a restaurant or retail account for consideration.
Inquire to apply: gwen@santaluciahighlands.com
---