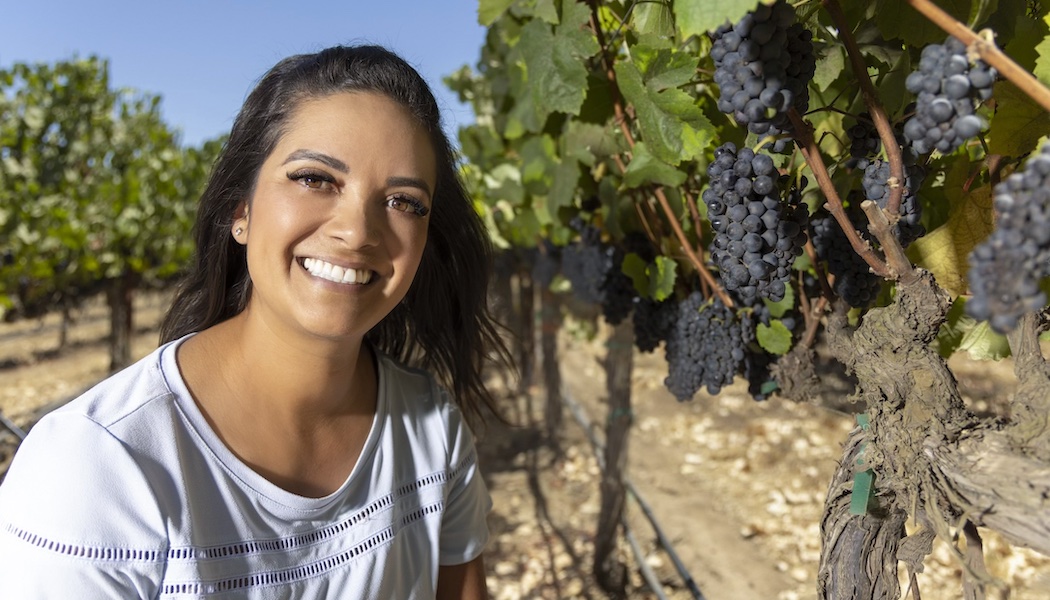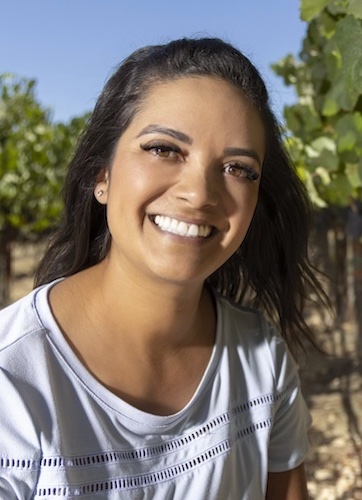 Q
How did you get into wine?
A
In my previous life I was the Teen Center Director for the City of Davis. I was a big kid playing Guitar Hero tournaments and inflatable jousting and hamster balls. Then I moved to Sonoma County to run a teen center in Healdsburg and quickly became a tourist in my new town. I fell in love with tasting rooms and learning about different flavors and varietals. I started in the Silver Oak tasting room a year later, drank the juice, and have never looked back.
Q
How did you come to the Santa Lucia Highlands?
A
My first exposure to the SLH was my job following Silver Oak when I started at Kosta Browne. They were making a Garys', Pisoni, and Rosella's Vineyard Pinot Noir, and I was fascinated with these wines. I was particularly drawn towards Rosella's and any time I saw a wine from that vineyard, I had to try it. Fast forward eight years and I'm walking the rows at Rosella's Vineyard (and Garys' Vineyard) with Gary Franscioni and Adam Lee (and Mark Pisoni). It's amazing and I can't believe I get to make wine from this special region and learn from these three superstars.
Q
What's your earliest, or favorite, wine memory?
A
Wine wasn't a big part of my childhood or family life growing up. Adults drank soda and kids drank a fruity juice my grandma would make in a big punch bowl. Once the children of the family grew up, the adults started drinking alcohol more. One weekend I was home from college and my mom offered me a glass of the wine she was drinking (after confirming I was in for the night). I accepted and she poured me a glass of Cabernet Sauvignon. It tasted awful. So tannic. "Why do people drink this?!" I thought. My taste buds were a little more acclimated to Smirnoff Ice or vodka cranberry cocktails. Alas, I persevered because I thought it was cool that my mom offered me some wine and I wanted her to continue to think I could swirl my glass and be a sophisticated adult. And that was the first memory of my relationship with wine.
Q
What's your favorite music to listen to during crush?
A
I remember one time overhearing Michael Browne from Kosta Browne sharing with a group he was hosting at the Kosta Browne winery about how playing rock music in the cellar was important because he wants some rockin' juice. So for me, I love treating the grapes like vibes. I love playing Taylor Swift's Reputation album when I first start to walk down the rows to sample during harvest. I start with the first song which goes on to say "So I'll take my time… are you ready for it?". When I'm walking the rows for dropping fruit, I'm playing something more like Old Dominion or Jack Johnson, easy-going, chill, let's stay on the vine as long as possible kind of music.
Q
What's the best part of being a vintner?
A
The fact that I get to spend time in the SLH, with the vines, and the growers. I take a picture in the SLH every time I'm there. Mostly of the fruit for progress tracking, but also of the views. This is a gorgeous growing region so even though it's a 3-hour no traffic, one-way trek, it's worth it every time because the area is so picture worthy. The vines that I am privileged to work with are healthy and responsive to our actions within them, and the soil is so important. It's a privilege to watch the results of our labor because we care so hard. One of my greatest joys of being in the SLH is the growers I get to walk the rows, taste the fruit and talk about the progress of the vintage with them. The knowledge among the people I am working with is expansive and insightful and I'm so lucky to learn from and be involved with these observations. Making wine in the SLH is more than work, it is a blessing; fulfilling, and special.
Q
Who would you invite to your ultimate dinner party?
A
How many people can I invite because there are so many cool people! I'll go with 12. First and foremost, my biggest fan, my mom, Rhonda Simpson. Thankfully that also means her husband, Rod Simpson (and he'll probably be in the kitchen at least observing if not cooking something. Bay Laurel or Josh Silvers are probably catering, yum). But after my mom, of course, my fiancé Adam Lee must be there. My best friends and their spouses, the Olvera's and Kleczkowski's. Then to round out the remaining guests: actress Jennifer Aniston, LPGA golfer Nelly Korda, lead singer Matt Ramsey from the country band Old Dominion, and Abraham Lincoln (if they have to be alive then Jack Johnson or David Copperfield or Amy Poehler). And we're definitely eating tacos.
Q
What do you do for fun when you're not working?
A
Well, I joke that I work 24/7-365 but I do enjoy spending time golfing. My favorite golf course is my home course The Fountaingrove Club in Santa Rosa, CA. It has fast greens and obnoxious trees and I enjoy the difficulty level. I wish my travel golf bag could have some frequent flyer miles because it's gone to HI, WI, MO, NV, FL, SC, TX, ID, CA, AZ, CO, Mexico, London, and Scotland. It's a great way to get outside, challenge yourself, and enjoy good friends (and who doesn't love driving a golf cart, right?)
Q
What do you drink after a long day of harvest/work, that is not your product?
A
I love Booch Craft. It's a fantastic kombucha company from San Diego that doesn't cut corners. Their ingredients are wholesome and their marketing is fun. I've even made up a slogan about my enjoyment of it, "A health drink finally worth my time" (it has a 7% abv). I try to have one can a day and the Orange Pomegranate or Grapefruit Hibiscus are my favorites.