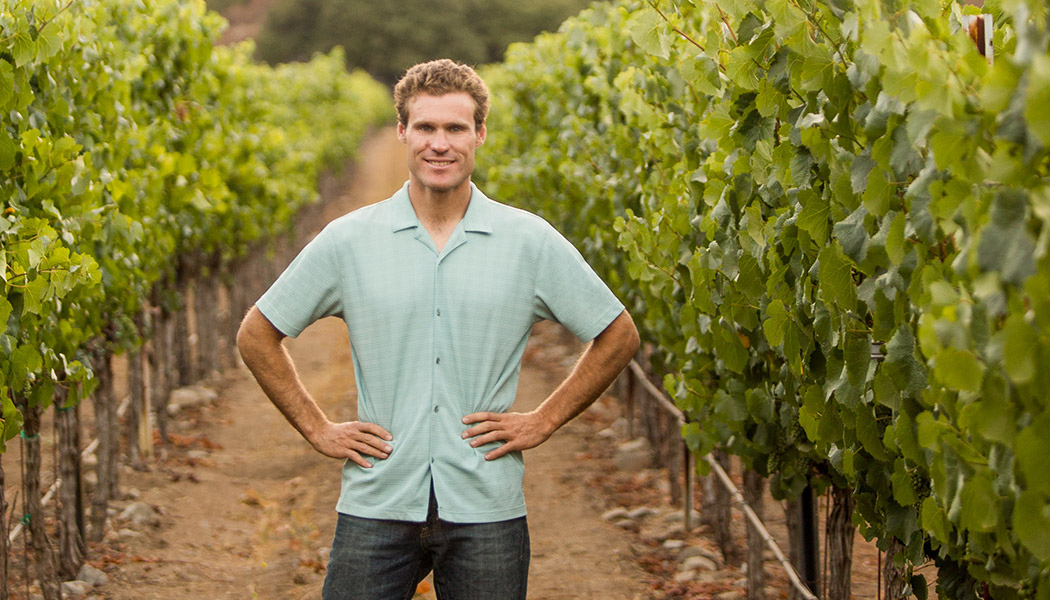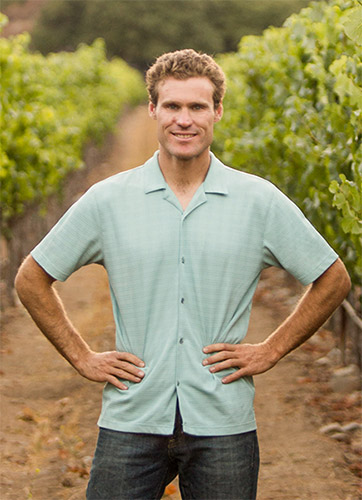 Q
Why do you grow/make wine from the SLH?
A
I am extremely honored and humbled to be part of a family that can be considered one of the founders of this appellation. My father Gary Pisoni first planted wine grapes at what is now Pisoni Vineyards in 1982 when I was just a toddler. So I got to experience the hard work and immense reward that this chosen profession brings the entire time I was growing up. That, mixed with my grandfather's love and connection to the vegetable fields in the valley down below, left me with a desire to be like the two of them.
Q
What is your earliest (or favorite) wine memory?
A
I remember the excitement my father had for planting vines at our Pisoni Vineyard. He absolutely loved wine and was so excited to able to plant vines on our family's cattle ranch in the mountains of the SLH.
Q
What was it like growing up in the SLH area when you were a kid?
A
I didn't realize it then, but having left for college and then returned, I now know how lucky I was to grow up surrounded by hardworking people who loved the land. Our family also grows vegetables and I was raised in the middle of one of the vegetable ranches. If I wasn't outside in the vegetable dirt, I was outside in the vineyard dirt. I earned an appreciation for hard work through not only my family but the number of families that work with us. And then, every once in a while when we look up from the soil and the vines, we are struck by the immense beauty of our area. I'm trying hard to impart that same unique and humble experience for my kids.
Q
Did your family drink wine at home when you were growing up?
A
Yes. I don't remember a time when wine wasn't only a beverage but a way of life in our home. It was always around, we were always working with it, and it always connected. It has been a vital part of my childhood and now life.
Q
What do you love the most about the SLH area (or your winery's area)?
A
Love that we are still a farming community. Neighbors get along, share equipment and ideas and we work together to grow better grapes.
Q
What's your favorite pairing for SLH pinot noir / chardonnay / syrah? (might be food, music, people, activity?)
A
Favorite is what our family calls a garden dinner. Glass of crisp chard, fresh vegetables from our garden, and some grilled chicken. Quick, simple, healthy and super easy. The kids and I have a garden outside out house, and we love bringing in fresh vegetables for my wife, Quinn, to cook.
Q
What's your favorite type of music to listen to during crush?
A
I often listen to our local Spanish radio stations during harvest. I am out with our team at night and we listen to a variety of different stations.
Q
What for you is the hardest part of being a wine grower/vintner?
A
Realizing that I can't control everything, and much of my job as a farmer depends on the weather.
Q
What for you is the best part of being a wine grower/vintner?
A
Two things: Our land- my job allows me to be outside and experience the seasons and develop a connection with our ranch. Many people today are disconnected from farming and the earth and I get to be with it every day. I like to get people who are not familiar with agriculture on our ranch and get them excited about farming and the crops our family and team of employees grows. The second thing I love about my job is to that people love the wines we are crafting from the SLH. Our wines really bring happiness into people's lives. It is great to know that after a long day of work people sit down and share our wines with their family and truly enjoy them.
Q
Why did you start growing wine grapes?
A
My Dad started growing grapes because he absolutely loved wine and felt grapes would do well in the cold climate of the SLH. I tagged along and helped my father out in the vineyard as a kid and always liked it. Growing up in the vineyards of the SLH is great spot to be as a kid.
Q
If you weren't a vintner/grape grower, what would you do for work?
A
Most likely a vegetable farmer. Our family farms vegetables in the valley floor of Salinas Valley and I am involved in that aspect of our business. I am very fortunate to be able do both vegetables and grapes for they are two very different farming worlds.
Q
What do you do for fun when you're not working?
A
I spend time with my kids and wife – I love vegetable gardening and the kids get into to as well – especially the muddy parts. I also like outdoor activities like tennis and hiking with my family. And my 9 year-old son, who is a Cub Scout and is becoming quite the outdoorsman, has taken me on a few overnight backpacking trips lately. It's not the best night's sleep but the beauty of our area, combined with the time alone with my son in nature is great.
Q
What's your favorite place to play or visit in the area?
A
Big Sur. I love the oceans, mountains and redwoods of Big Sur. The landscape is absolutely beautiful and it is amazing to think it is just over the hill from our vineyards. People raised in Big Sur are generous, kind and just fun. I feel very fortunate to have so many friends in that community.
Q
Who are you @following (wine or otherwise) on social media?
A
I am a not a social media person. I am very behind in that world.
Q
Favorite author (wine or otherwise), and why?
A
Roahl Dohl is currently my favorite author. I have been reading lots of his books with my son and we love them. He is fantastic story teller and he is great for all ages.
Q
What must you always have at arms-length?
A
My phone, my binder for notes (I still prefer paper and pen), and pruning sheers.
Q
What's your idea of a perfect weekend?
A
As a farmer, my weekends are usually just Sundays. The perfect Sunday starts with sleeping in (which means 7:00 am ) followed by either reading or playing with my kids. After church, we like to do something outdoors and active with the kids followed by some outdoor relaxation at our house. My wife would probably be happy with a weekly date then too, but with at 4:30 wake-up time the next day, that doesn't happen nearly enough.
Q
Who are your favorite collaborators?
A
My favorite collaborators are our vineyard team members. I feel very fortunate to work with a number of incredibly hardworking and talented men and women. Our vineyard team spends countless hours with the vines, and it is due to their hard work that we craft outstanding wines. I confer with them regularly and trust their judgement and expertise a great deal.
Q
What is something that few people know about you?
A
I can do a pretty good handstand, and will try one basically anywhere.