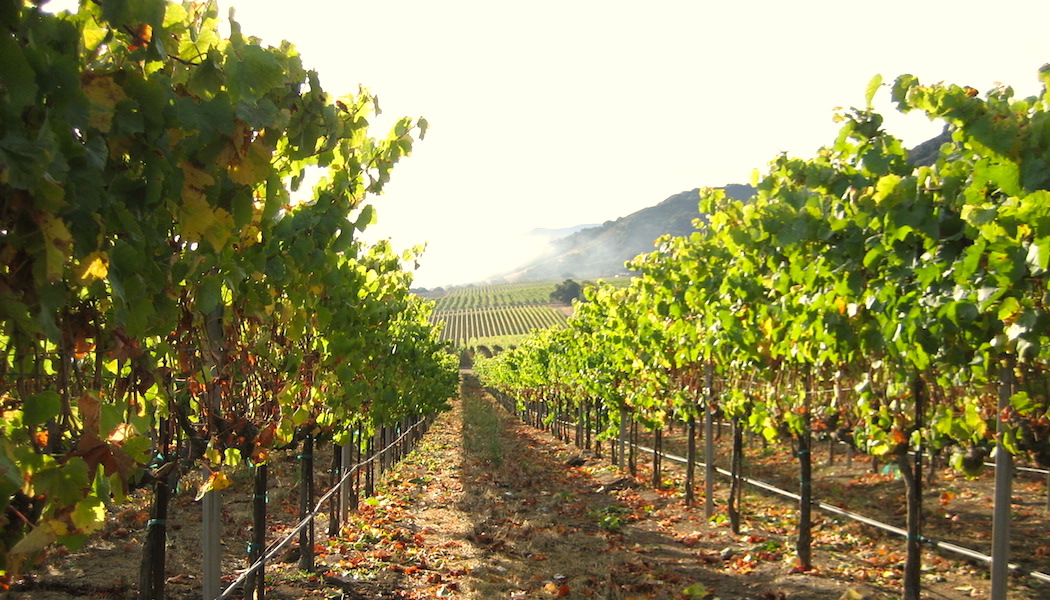 'Wind And Refrigerated Sunlight': Winemakers Talk About The Santa Lucia Highlands
Forbes.com
Jill Barth
9/29/2020
'Wind And Refrigerated Sunlight': Winemakers Talk About The Santa Lucia Highlands
Jill BarthContributor
Spend any time chatting with a winemaker or grape grower in the Santa Lucia Highlands—situated south of the Monterey Bay on California's central coast—and the conversation will immediately turn to these three things: the wind, the sun and the people. These aspects combine to make some truly fabulous wine, namely cool-climate Pinot Noir, Chardonnay and Syrah that has earned its critically acclaimed stripes.
The growing region captured American Viticulture Appellation (AVA) status in 1991, a proposal drawn up by families that had tended vineyards here since the 1970s: icons such Nicky Hahn, patriarch of Hahn Family Wines, Rich and Claudia Smith, the McFarland family and Phil Johnson. These were farmers, families immersed in the strong agricultural community, who realized that vineyards deserved a significant spot alongside the vegetables and ranches that are the bread and butter of the Salinas Valley.
Over the next two decades, as more plantings began to thrive on the hillsides lifting up from that valley floor, it became clear what they had created: a terroir-driven wine growing region. By the 90s, it wasn't just local farmers with their hands on the vines—winemakers from further afield were attracted to the Santa Lucia Highlands, or SLH for short.
Kristen McIntyre is the sales manager at McIntyre Vineyards. She's the daughter of Steven McIntyre, a name on the masthead of Santa Lucia Highlands. Steve and Kristen are perfect examples of the institutional knowledge building in this region, and she describes it perfectly: "It's the timelessness of the families and the wine, and how they come together."
Steve McIntyre's bio includes a hand in "planting 20% of the entire AVA, farming nearly a third of its vineyards and vinifying hundreds of wines from its grapes." To put this into perspective, if someone new came to the Santa Lucia Highlands to start a life in wine, they wouldn't have to pick up a book or root around in a dusty cellar. They could go to McIntyre and ask him a question. If they did, he'd probably talk about the ocean. "Maritime influence in the Salinas Valley is paramount to our climate," says McIntyre.
That maritime influence is carried on the wind which McIntyre identifies as "truly a gusty situation, like clockwork." Every afternoon during the growing season, the wind delivers cold air from the Monterey Bay. This body of water is deep, rich and very diverse. In fact, it is a protected National Marine Sanctuary, its surface hiding a canyon nearly as deep as the Grand Canyon. This beautiful feature cools the temperature and stops photosynthesis, lengthening the growing season. It also thickens the grape skins, increasing the flavor potential.
Paul Clifton is the winemaker at Hahn Family Wines, a name tied to the origins of Santa Lucia Highlands. "The Monterey Bay influences with ripening and wind for a long growing season," says Clifton. "Bud break is in February, harvest season is in September. And I've been here 18 years and have yet to see frost."
Dan Lee is the winegrower and proprietor at Morgan Winery and he calls the Monterey Bay the "air conditioner" for Santa Lucia Highlands. "Wind and refrigerated sunlight," are key characteristics. "Flavor development needs moderate temperatures and an extended growing season," says Lee. "Flavor development continues to perk along."
The well-traveled proprietor and winemaker at Cattleya, Bibiana González Rave, cut her teeth in France but settled in California. She makes wine from sources around the state, including a single-vineyard Syrah from Santa Lucia Highlands. "I love that this valley is not a monoculture," says González Rave. "There are so many types of crops in this valley."
This is the history of Santa Lucia Highlands and the Salinas Valley, which has been an agricultural haven since the mid 1800s—some estimates say there are over 150 types of commercial crops grown in what's called "America's Salad Bowl."
Adam Lee, owner and winemaker at Clarice Wine Company says this small appellation is unique thanks to the wind and sun, but also to the human contributions, the high-end vineyard plantings and the "history of family farming" that still thrives today.
One of these families, a name that rings through the Santa Lucia Highlands, is the Pisoni family. Jane and Eddie Pisoni's farming roots in the Salinas Valley date back to the 1950s. Their son Gary planted grapes, and shortly after began making wine under the Pisoni Estate and Lucia labels. Gary's children, Jeff and Mark, are now winemaker and vineyard manager, respectively.
"I'm a real farmer," says Mark. "I love farming and being a part of the farming community." He credits "the people of this appellation" for what Santa Lucia Highlands has become.
"We feel we are doing things right here," adds Pisoni. "Anything that brings more attention to the people, wine and food is what we should be doing." He says that this generation of winemakers and growers should increase the focus on the employees: "These are long-term, committed families, helping to produce fantastic wines."
Santa Lucia Highlands Wines to Try
Chardonnay
Lucia Soberanes Vineyard Chardonnay 2018, $45
Luli Chardonnay 2018, $24 (Note, this wine is a partnership between Master Sommelier Sara Floyd and the Pisoni Family.)
Scheid Vineyards Escolle Vineyard Reserve Chardonnay 2018, $45
Talbott Vineyards Sleepy Hollow Vineyard Chardonnay 2018, $45
Pinot Noir
Bruliam Wines Soberanes Vineyard Pinot Noir 2018, $55
Clarice Wine Company Rosella's Vineyard Pinot Noir 2018, $90
Hahn SLH Orchestral Pinot Noir 2016, $55
McIntyre Vineyards Estate Pinot Noir 2016, $48
Miner Family Winery Garys' Vineyard Pinot Noir 2017, $60
ROAR Rosella's Vineyard Pinot Noir 2018, $45
Sarah's Vineyard Tondré Grapefield Pinot Noir 2018, $48
Riesling and Syrah
Morgan Winery Double L Vineyard Riesling 2019, $25
Cattleya Soberanes Vineyard Syrah 2015, $85
Wrath KW Ranch Syrah 2017, $49
Follow me on Twitter. Check out my website.
Read online at Forbes.com here.