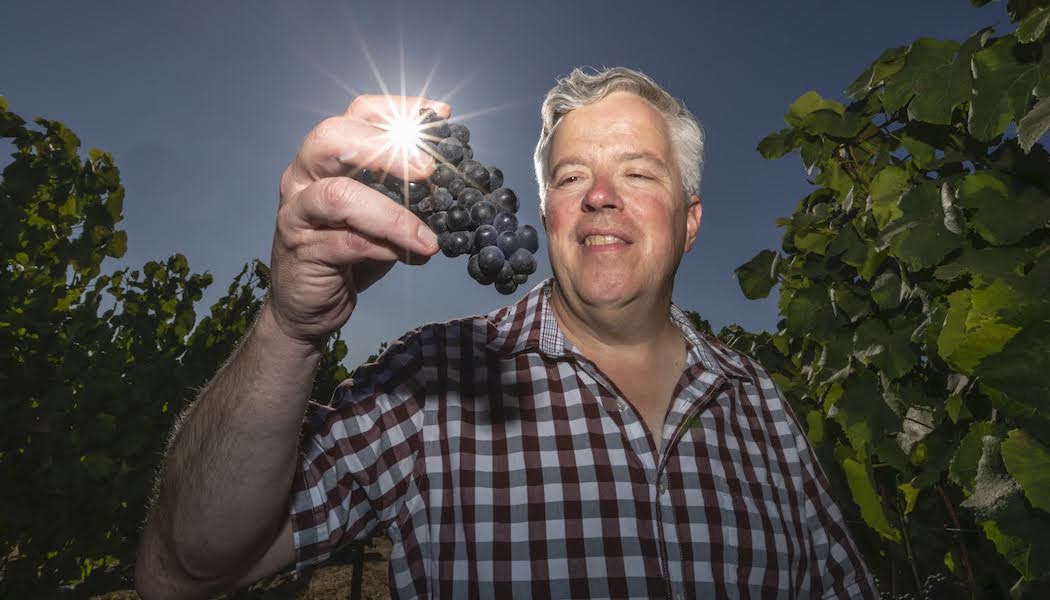 Talking Clarice Wine Company and Beau Marchais with Adam Lee
The Wine Write
Randy Smith
7/11/21
He could make Pinot Noir from anywhere. He chose the Santa Lucia Highlands.
Adam Lee came to fame as the winemaker for Siduri Wines. That brand became one of California's premier Pinot Noir producers. Siduri sourced fruit from top shelf vineyards that stretched from the Willamette Valley in Oregon to the Sta. Rita Hills in Santa Barbara County, California. While he collaborated with a lot of esteemed farmers in each area, Adam became especially close to the growers of the Santa Lucia Highlands. He decided that if he ever started another project, he would use fruit from the region.
That day came. Siduri Wines was sold to Jackson Family Wines in 2015. While Adam remains connected there as a consultant, he has since started two projects that feature Pinot Noir from the Santa Lucia Highlands. Clarice Wine Company is a small, heartfelt project named after his grandmother. It's a unique business model that features limited membership, wine education, and community interaction. Try doing that in a pandemic. The wines are sourced from two iconic properties, Garys' Vineyard and Rosella's Vineyard. The wines are nuanced, lower in alcohol, and delicious.
A second project, Beau Marchais, came out of left field. It's a partnership with famed Châteauneuf-du-Pape winemaker Philippe Cambie. As befits the Cambie style, those Pinots are bigger, darker, more explosive in flavor, and higher in alcohol. Fruit is sourced from Soberanes Vineyard in the Santa Lucia Highlands, as well as Clos Pepe Vineyard in the Sta. Rita Hills. Call it Pinot made with a Grenache vision.
The two new projects could not appear more different, despite the common denominator in fruit sourcing. We caught up with Adam Lee recently to learn more about each venture, as well as his devotion to the Santa Lucia Highlands.
Adam Lee
The Wine Write: It always struck me that you were in so many regions and vineyards with the Siduri brand. That was a label that could not be pigeon-holed.
Adam: Quite frankly, I'd like to say we had a business plan at Siduri, but we didn't have much of one. We were looking for people who were willing to sell us grapes. We definitely were looking for quality vineyards, but the region wasn't a limiting factor. If we saw a great vineyard in Monterey, we'd go for it. Back then there weren't always a lot of choices.
I always thought it was odd that people would come to us and say that the wines tasted so different. They would be referring to two bottles that were made from grapes grown a thousand miles apart! That fact wasn't surprising to me. I was always impressed with the old wines made at Williams-Selyem. Those guys were sort of our inspiration. They had Allen Vineyard and Rochioli Vineyard right across the street from one another, and those two wines tasted so different. Now, that's amazing! The fact that my Muirfield Vineyard wine from Oregon and my Pisoni Vineyard wine from the Santa Lucia Highlands tasted different? That probably shouldn't surprise anyone.
The Wine Write: Is it an entrepreneurial spirit or an ongoing curiosity about Pinot Noir that led you to launch the Clarice and Beau Marchais brands?
Adam: It's a combination of a number of things. Over time at Siduri it got to the point where I felt like I needed to make wine in a certain style. Customers expected it. Of course, I owned the label. I could have changed things or did some things differently, but there were those expectations. As the vines got older things changed to a degree, but I still felt restricted somewhat. If I decided to do a Santa Lucia Highlands Pinot Noir in a different style, my Siduri customers would not have expected that. How do you pull that off successfully? I'm not sure I could have done that.
I wanted to have an expression of my own. I wanted to apply what I've learned over the past twenty-five years. For Clarice, I wanted to show what these vineyards have given me for over two decades. Those factors drove me to do this again. At times I think it's not the wisest idea I've ever had. You get the label started and things are going well, and a global pandemic comes along. I didn't anticipate that. A lot of shit happened to me in a quarter of a century making wine, but not a pandemic!
The Wine Write: What came first: the idea for the business model or the decision to focus on Santa Lucia Highlands fruit?
Adam: That business concept came together pretty quickly, but it has evolved. You have to bring new things to the party. One of the things actually is a party. The Clarice model was built to some extent on the idea of having get togethers at other wineries. I wanted to have parties and events take center stage at Clarice. Of course, all those ideas went down the tubes in 2020. I changed up things. I now do Zoom events with other wineries. We're also just starting to do some events in person. We have things scheduled in June and August.
So I'd say the business model came first, but the Santa Lucia Highlands focus was right behind. Those are the growers with whom I'm closest. I love the fruit down there. I always knew if I was going to do my own thing again, it would be with Santa Lucia fruit. I have a complete and total belief in those growers. If I tell them what I want done, I won't have to check behind them. In some other places you feel like you need to go through and confirm what was done.
The Wine Write: Is there still room at the table to join the Clarice wine community?
Adam: There is. Every year thus far there have been people who have joined, and others that have dropped off. That certainly was the case in 2020 with COVID and all those issues. That's another change I had to make. Due to smoke exposure, I didn't make any 2020 Pinots for Clarice. I made a little Grenache-Mourvèdre blend with some Paso Robles fruit. A friend helped me out with some grapes there. We are also going to be selling one of the ROAR wines from 2019. ROAR is Gary Franscioni's label. They lost all of their fruit last year due to the fires. If I can help them out by promoting their wine, we both win. We're cutting the price in half. The Franscioni family will get the money from those sales. The idea there is to try to help out the growers. My membership continues to get good wine, albeit in a more limited fashion. I'm hoping everyone gets taken care of to some degree.
The Wine Write: To say 2020 was a rough year would be an understatement.
Adam: Very much. I lost all of the Clarice Pinot Noir and half of the Beau Marchais Pinot.
The Wine Write: One of the elements of the Clarice model that intrigued me was the wine education and community elements you've included.
Adam: That community concept continues on in spite of the pandemic. Our members can choose how involved they want to be. Some people are very active. They post questions all the time, they get answers, and they respond. Other people are less involved. The educational element has probably grown since we started. It's been less in the way of online wine articles and more focused on Zoom events. I have one scheduled today with Michael Browne, one of the founders of Kosta-Browne. We'll be talking about the past, present, and future of California Pinot Noir. Members will be online with us and participate. They can ask questions, make comments, and be as involved as they choose. So events like that have increased over the past year because we could not get together in person. I do two or three of those a month.
The Wine Write: Why does the Santa Lucia Highlands fly under the wine radar?
Adam: Good question. There are a couple of things in play. Part of it is that there is no tourism there. I was just down there. There are two of the best Mexican restaurants you'll ever find, but that's about it. There aren't a lot of places to eat. There aren't any real hotels in the area. There are five or six wineries along River Road, the main route there. Most of the wineries have tasting rooms in Carmel. So the opportunities for people to get to know the area are fairly limited.
The other thing is a positive for me, but I can see from a marketing vantage point how it might not be. The people living in the Santa Lucia Highlands are truly farmers. They are multi-generational farming families. I think that's wonderful, but I wouldn't tell you that they are polished public relations folks. Take those Mexican restaurants I mentioned. You know how most Mexican places will give you chips and salsa for free? In these places you get free salad. These families grow those vegetables. I took my cellarmaster there once, and he tried to decline the salad. You don't do that. You take the salad, even if you just move it around in the bowl. So the farming aspect of this region is wonderful, but that doesn't lead to visitors immediately coming in as tourists.
That being said, the Santa Lucia Highlands Wine Artisans association, led by Gwen McGill, does a fantastic job. They promote the region in a way that fits. They're not trying to make the area into something it's not. If you come here for a sommelier event, don't expect to go to The French Laundry. That's not what you will see here. I think the association's honesty is something that people appreciate.
The Wine Write: Tell me more about the Clarice wine style.
Adam: Clarice is different than Siduri in a few respects. I'm picking this fruit a bit earlier, so it's a bit less ripe. So it's lower in alcohol. I'm using a lot of stems and whole cluster in the fermentation. Consequently, there is more backbone. These wines are made for food and for aging. I always thought of Siduri as wines you could drink at any time. I think we've underestimated the Santa Lucia Highlands in some ways. I've always thought wines from this region age on their acid, not on their tannin. These wines also have tons and tons of fruit. That ample fruit allows the wines to stand more tannin. I feel confident that these vineyards will give me great fruit concentration. I'm trying to add some tannin to the wines and make them age-worthy and interesting by using more whole cluster.
The Wine Write: Does the growing season there give the time needed to get the stems nice and brown?
Adam: That's right. The season is quite long. It's fascinating. The Central Valley warms up in the early afternoon. When that happens, the winds are pulled in off the peninsula. That leads to some very cool late afternoons. Maybe two o'clock is the warmest part of the day. If you get one hundred days from fruit set to harvest in Burgundy, it's a great year. We get one hundred thirty days in the Santa Lucia Highlands. The ripeness of the stems is based on how long the grapes hang on the vine. It's almost antithetical to sugar development. If you get sugar levels up too fast, you won't want to let the fruit hang too long. It's that length of hang time that's the key to using whole cluster.
Philippe Cambie
The Wine Write: Your Beau Marchais project is a pretty neat partnership. How did that come about?
Adam: It wasn't planned at all. Mike Officer of Carlisle Winery is my best friend. We both love the wines of Châteauneuf-du-Pape. We decided to visit over there in the summer of 2018. We flew over and spent about ten days there. One of the things we had planned was a lunch with Philippe Cambie, the leading winemaking consultant in the area. We were thinking that would be one of the highlights of our trip. It turned out that there were tons of wine writers in town then, and as a result Philippe texted us about canceling lunch. His appointments were running late. We were crushed. Then we got a follow-up text saying we could have dinner at his house the next night. We were all in on that.
We had a fabulous dinner. We drank some amazing wines. He pulled out a bottle from Mike Officer's birth year. It was an incredible night. At some point he made the statement, "I've always dreamed of making Pinot Noir." I loved that wording. Here's a guy who made three wines his first year that garnered one hundred point ratings from Robert Parker. He could have said that he could be successful making Pinot Noir, or that he could make a lot of money making Pinot Noir. Instead, he said he dreamed of making Pinot. I thought that was fantastic.
When I returned home I sent him a thank you email, of course. I brought up that line to him, and asked him if he would consider doing that and working with me on a venture. He quickly replied that he would love to do so. That was the beginning of Beau Marchais. We formed a real company. We did an operating agreement that cost me eighteen hundred dollars to get translated into French. Shockingly, Google Translate doesn't work very well for an operating agreement.
The Wine Write: How do Clarice and Beau Marchais differ?
Adam: While Clarice is my expression, Beau Marchais is much more Philippe's expression. I shepherd the grapes. I'm there on the ground and doing the day to day, but he's providing the direction. That's what I wanted. Does the world need another Adam Lee Pinot? Having a Philippe Cambie Pinot that I am involved in making is more than sufficient for me. It is a very different style. It is made with the vision of a person who has made great Grenache from Châteauneuf-du-Pape all his adult life.
Soberanes Vineyard
The Wine Write: How did you choose the vineyards for Beau Marchais?
Adam: I flew back to France to get the operating agreement signed. It was a really quick trip. After that we did a tasting of California Pinot Noirs to decide from which region we would source fruit. We chose the Santa Lucia Highlands. The Sta. Rita Hills was also a candidate. Part of our rationale was the relationships I had with the Pisoni and Franscioni families. We decided to use the Soberanes Vineyard. It had great potential. It's a somewhat newer vineyard. Philippe isn't into using stems as much, so a young vineyard doesn't bother him. So that was vineyard one in the Santa Lucia Highlands.
Later on I was down in Santa Barbara at the World of Pinot Noir event and went out drinking with the folks from Walt Wines. They lease Clos Pepe Vineyard. I'd been getting Clos Pepe fruit since 2000 for Siduri, but they had not sold fruit to Jackson Family Wines when that contract was up. I mentioned the project with Philippe, and they asked me if I would be interested in reengaging with Clos Pepe for Beau Marchais. Here's how partnerships go awry: I said yes before I asked Philippe. That was probably not the right thing to do. Knowing this vineyard like I do, and knowing that the Sta. Rita Hills finished second in our selection process, I felt good about it. Clos Pepe is a known commodity. So we went for it.
So there was some planning involved in our choices, but some of it was serendipity.
Clos Pepe Vineyard
The Wine Write: Give me a thumbnail description of the Beau Marchais style.
Adam: The wines are big and rich. They're more like a Châteauneuf-du-Pape wine in some ways. It's darker in color. The main thing I can point to from a winemaking perspective is that Philippe stays on the skins for much longer. I'm normally on the skins for seventeen to twenty-one days. That's pretty much true for all the Pinot Noir makers I know. Philippe is on the skins between forty-two and forty-eight days. He extracts every little bit he can from the skins. Every couple of days we pump out of the bottom valve of the tank. We go around and pump into the wine. That pushes the skins back up again. You are not introducing oxygen using that technique, but you are mixing the juice around and keeping it fresh. That's something I had never done before. Philippe also has a proprietary enzyme he uses that helps him extract more. There are a slew of things he does differently in the cellar to get that style.
The Wine Write: I'm assuming the Beau Marchais wines are higher in alcohol than Clarice?
Adam: Indeed. That's one of the interesting things about the Clarice wines. Over the first three vintages, from 2017 through 2019, I've not had to add anything to them but sulfur. They hover right around fourteen percent alcohol. The Beau Marchais wines are right around fifteen percent. They're higher in alcohol and more extracted. In spite of the whole cluster I do with Clarice, the Beau Marchais wines are also higher in tannin. I think that's simply the byproduct of being on the skins that long. Using whole cluster gives you more tannin, but not enough to make up for staying on the skins twice as long.
The Wine Write: What's the experience been like working with Philippe Cambie?
Adam: It's been great, although it's been somewhat attenuated. He usually comes to the United States three times a year for two weeks at a time. Because of COVID-19, his trips here have stopped. We got one blending done in February, 2020. Since then I've shipped him samples. The problem there is the length of time it takes to get to him. It may take three weeks. Then I taste with him remotely via Zoom or whatever. You have to wonder if we're even tasting the same wine at that point.
Fortunately I am going to be over there at the end of June. I have a trip planned, and it's looking like I will be able to make it. I'll take the blends we came up with and we'll get to confirm that we're happy with them in person. That will be so great. Philippe has been driven nuts by not being able to travel. He was out for six weeks a year just in the States in normal times. That doesn't include the time he usually spent in Macedonia and other regions. He's screaming, "Get me out of here!"
The Wine Write: You've worked with so many great vineyards. Is there a vineyard you'd love to use?
Adam: I grew up in Austin, Texas. I grew up Southern Baptist. I never drank until I went off to college at Trinity University in San Antonio. Then I drank a lot, but it wasn't fine wine. I was a junior in college and dating a senior. She got a job out in Walnut Creek, California. I spent the summer before my senior year with her out there. My parents were not thrilled.
We would go wine tasting. We thought we knew something because we liked Mondavi White Zinfandel better than we liked Sutter Home White Zin. The first red wine I ever fell in love with was from this beautiful little place overlooking the vines and the river. You're in love, so the whole experience seemed special. That first red wine love was the 1984 Rochioli Pinot Noir. Rochioli remains one of California's greatest Pinot producers to this day. If there's a vineyard I'd love to work with, it's Rochioli. It's a great vineyard. I love the wines that come from there. But it also carries that history for me. I'd love to bring that full circle.
Don't rule out the possibility. Adam Lee has a tendency to fulfill his own dreams.
Clarice Wine Company is an intriguing concept on so many levels. It was conceived not exactly like a club, but more like a community. You know the wines will be worthy. The ability to learn and interact with Adam, other members, and even other wineries is a unique bonus. COVID-19 created some unforeseeable obstacles that appear to have been dealt with admirably. Unfortunately, the fires and smoke of 2020 made making Pinot Noir from these vineyards impossible. Adam has called an audible for the vintage in an effort to make a bit of lemonade to assist his growers. Let's hope for better fortunes in 2021.
Beau Marchais is something that defies logic. The stars aligned to put this wine dream team together. Philippe Cambie dreamed of making Pinot Noir. Adam Lee made it happen. This wine will likely have strong appeal to Cambie fans and lovers of bigger, bolder red wines. It's a Pinot Noir tailor made for Châteauneuf-du-Pape devotees. Hey, there's room at the table for everyone.
The most amazing part of this whole story is that the vineyards of the Santa Lucia Highlands can do both styles and do them well. While that might surprise many people, Adam Lee would not be one of them. He's more familiar than most with the quality of grapes grown up and down the appellation, having used fruit from the region for over two decades. That's a lot of beautiful Pinot Noir. Thankfully for wine lovers his work glides on with these two new projects. We hope he continues to work in the wind and sun of the region for a very long time.
Posted 11th July by the wine write