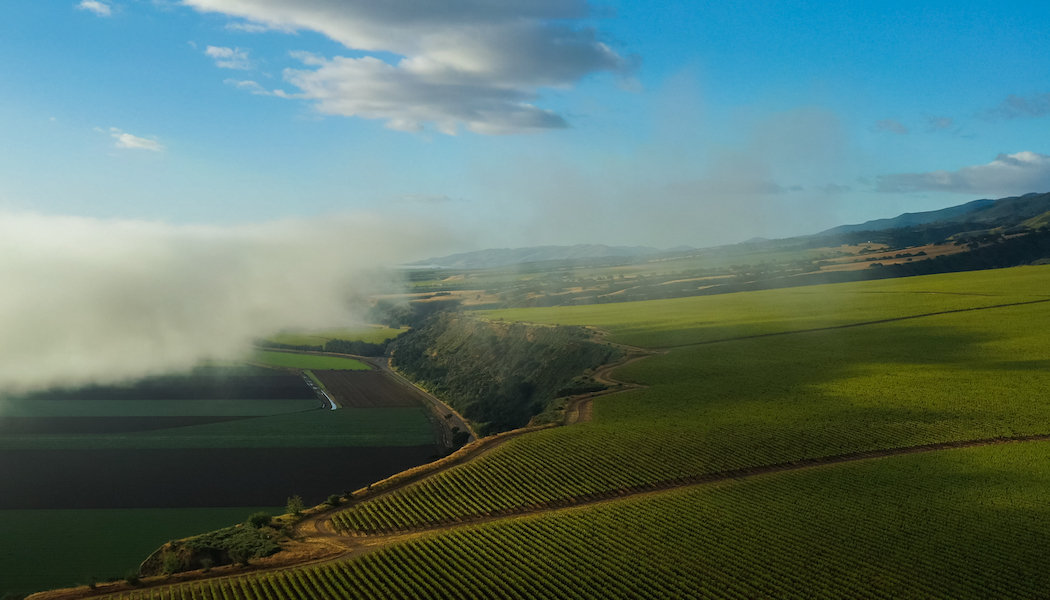 Sun, Wind and Wine: Inside the Santa Lucia Highlands
Edible Monterey Bay
Laura Ness
6/8/2021
Sun, Wind and Wine: Inside the Santa Lucia Highlands
by Laura Ness
June 4, 2021 – Hair pinwheeling as if she were on the bow of a ship at sea in a gale, winemaker Sabrine Rodems illustrated for the folks on the Zoom call exactly how windy it gets on a typical day in the Santa Lucia Highlands. And she wasn't even on "the bench" proper: she was on the lee side of the winery building on the Wrath property at the San Saba Vineyard, supposedly "out of the wind." Everyone got the picture.
Just a short click down the road and up the hill, winemaker and general manager Paul Clifton of Hahn, who's been there for 25 years now, testified to the ever-preset wind and fog that make this area so fabulous for Burgundian varieties. Clifton grew up in the Salinas Valley and, like many, left for a spell, but was lured back by the prospect of making wine in his old home stomping grounds.
Grower Steve McIntyre chimed in, recalling that he started in 1983 as an assistant winemaker at Hahn, while Clifton was still a kid. "I wasn't crazy about being in a dark cellar, dragging hoses across a damp floor!" admits McIntyre. "I much preferred being outside in the vineyards." He's made it his life's work and the AVA has much to thank him for, as he's been installing and caretaking SIP Certified vineyards there his entire career.
Mark Pisoni provided visuals from his outdoor perch, where he waxed poetically about the joys of farming, something his family has done here in the SLH since the early 1900's. They originally had dairy cows and farmed row crops, which he still does. There's nothing like his broccoli and asparagus, and his grapes are pretty great, too. "I love my job!" he enthused. And to taste any of the Lucia wines, which his brother Jeff crafts, is to taste the exuberance and delight of the entire winegrowing family. The 2019 Lucia Soberanes Vineyard Chardonnay is like drinking in that electrifying breeze, all lemon curd and tart apple pie.
Michelle Shafrir, winemaker for Miner Family Wines, Zoomed in from the caves in Napa, where she makes Pinot Noir from vineyards owned by Gary Franscioni and Gary Pisoni, tended by the latter's son, Mark. She said Miner has been sourcing pinot from there since 1990.
Alison Frichtl of WALT Wines, checked in from St. Helena, sharing that her company specializes in unique sites throughout the Western states, from the Willamette Valley to the Sta. Rita Hills. "We were missing the SLH, though, so in 2010, we met Gary Franscioni, who came to St. Helena and we subsequently started making Sierra Mar Pinot Noir. In 2016, we added Rosella's," she says.
Seminar moderator, the gregarious and informative Evan Goldstein MS, gave a brief overview of the history of the region, which we know from California history was the site of one of the Franciscan missions at Soledad, established in 1791 as the 13th mission in the chain. Here, the Spanish planted grapes for Angelica and communion wine: they had their priorities.
The first commercial grapes were planted in the Santa Lucia Highlands, aka SLH, in the 1970s, by Nicky Hahn, Rich and Claudia Smith (Paraiso), Jerry McFarland (Sleepy Hollow) and Phil Johnson (La Estancia). The second wave of planting occurred in the 1980's and 1990's, driven by Chuck Wagner (Mer Soleil), Gary Franscioni, Gary Pisoni, John Boekenoogen, Dan Lee (Morgan), Steve McIntyre, Mark Manzoni and Joe and Tondré Allarid (Tondré Grapefield).
The AVA, designated a cool Region 1 climate (according to Winkler's scale), was officially designated in 1991, and is 18 miles long and just one to three miles wide. Today, the 6,400 acres of grapes planted there are roughly 59% Pinot Noir and 35% Chardonnay, with the remaining 6% a mix of Syrah, Pinot Gris, Riesling and Viognier. And some Cabernet, too.
McIntyre describes terroir as the things we can't change, like soil, geography, exposure and weather. The Highlands bench sits above the Salinas River valley on deep alluvial fans, where it's hard for roots to ever hit bottom. He says the northern end of the bench has very little rock, whereas the southern end, by Hahn and Bianchi, is extremely rock-endowed. By the time you get to Pisoni, the rock disappears. Larger uniform blocks that contain no rock, tend to exhibit more uniformity of ripeness.
The fierce wind is caused by the disparity in temperature between the warm inland valley floor air mass and the cold deep air off the ocean, says Clifton. "Monterey Bay, with its cold deep canyons, is the driving force behind our climate. By 2pm, the wind comes in and gains speed as it moves through the valleys. It's like a tunnel effect. There's even more wind in the south."
McIntyre added, "Lots of wine growing regions see their warmest temperatures between 3 and 4pm each afternoon. Our warmest temps occur at 1pm, because the wind comes up like clockwork at 2pm. It is not a breeze: it's blowing at 25mph!!" He pointed out that the grapes naturally develop thicker waxy cuticles to protect them from the elements, including wind.
"We don't have the degree days of the other regions. Over time, sugar accumulates, and those C6 carbons make up aromas and flavors. They occur over time, and are not so much temperature related. This is why hang time is so important here. We end up with very concentrated flavors, but not sugars," added McIntyre.
Gwen McGill, Executive Director of the SLH Wine Artisans, shared a slide showing the different degree days of winegrowing regions. The Russian River averages 2,580, the Sta. Rita Hills 2,420, Santa Maria 2,201 and the SLH 2,286, underscoring McIntyre's point.
Mark Pisoni then pointed out the diversity of agriculture present here, from cows to row crops to grapes. "This makes our region truly unique. There are many family farmers here besides us, like the Caraccioli's, the Boekenoogen's, Franscioni's and Kirk Williams. They are committed to farming here." He also praised the cooperative nature of the farming community saying, "Everyone is kind. If you need a tractor, there's always someone that has your back. There's a willingness to share and a fundamental commitment to sustainability."
Rodems then seconded the notion, describing her deep love of the area. Referring to all the folks on the Zoom call with her, she echoed the point Pisoni made earlier. "These are my colleagues, not competitors."
She also acknowledged what drew her here. "I have a degree from Davis, and didn't want to be in a monoculture. Here, you have lemons, avocados, grapes, lettuce, veggies. You can see exactly where your food comes from, and you can see how hard it is to grow both lettuce and wine!"
Admittedly, what makes this area so successful as an agricultural region and what drives the wines to lofty pinnacles of flavor, is tied inextricably to the climate.
McIntyre recalled the first time he visited the area as an 8th grader. "We stopped at a trailer park south of Soledad, and the wine was blowing like mad. I saw the sprinklers going like crazy. I said to my Dad, 'Who would ever want to live here?!'
It's not for everyone, the SLH. But there's nothing in the world like it. Learn more and download a map at: santaluciahighlands.com
SAVVY SIPS
2019 Hahn SLH Pinot Noir – Generous and sophisticated, this wine is made from the four vineyards Hahn owns on The Bench: Doctor's, Smith, Hook and Lone Oak Vineyards. Winemaker Paul Clifton says it represents 20 different clones of pinot noir, all vinified separately so he can learn more about each one, year after year. The result is satisfying on every level, with an abundance soft, black fruit and sweet raspberry pomegranate tea, with a finish of chocolate ganache. Delicious and appealing.
2019 Lucia Soberanes Vineyard Chardonnay – Lemony in every brilliant way. with aromas of fresh baked Meyer lemon shortbread, butterscotch and pear, this wine from what Mark Pisoni describes as a "ridiculously rocky" vineyard site, explodes with lemon pound cake and lemon icing. And yet there's a hint of coconut lurking. The mid palate reveals sweet Bosc and seckel pear, with a texture approaching pudding. Lively, acid-driven and vivacious, there is nothing holding this wine back. It's got energy to spare.
2018 Wrath Boekenoogen Vineyard Pinot Noir – Bold, in your face fruit from one of the northernmost vineyards on The Bench, is tamed a bit by the 25% whole cluster that winemaker Sabrine Rodems used for bolster and depth. With a nose dominated by red cherry and tutti fruity goodness, it has a dense mid-palate, revealing big dark fruits, like plum, streaked with red cherry pie. Not shy in any way, this is a powerhouse without being a sledgehammer.