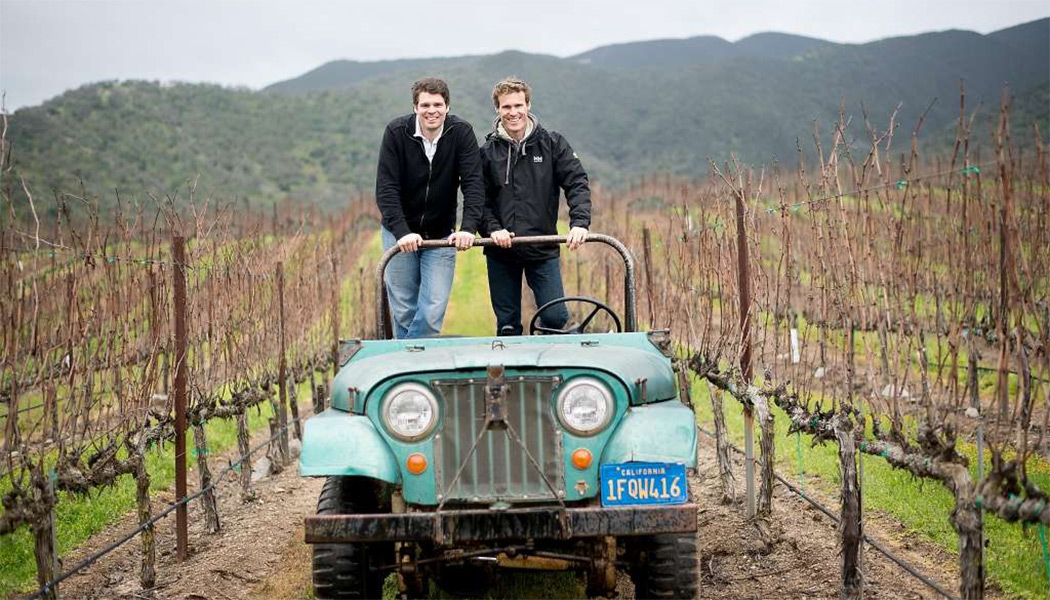 Santa Lucia Highlands: Pinot Noir on the Edge
San Francisco Chronicle
Bryce Wiatrek
June 2017
"Have you ever been invited to a $250 lettuce tasting?" Gary Pisoni recounted asking his father. I had read of this conversation before, the one in which Gary persuaded his dad to replant part of their produce farm to wine grapes. Still, it was enchanting to hear the legend from the man himself, huddled against the blazing fireplace in his hillside cave like some Renaissance raconteur.
With his jocular smile and gray curly locks, Pisoni can convince you that the incarnation of the Santa Lucia Highlands, a premium region for collectible Pinot Noirs, occurred with one comical but shrewd question.
The Santa Lucia Highlands emerge 15 or so miles southwest of Monterey Bay. They stretch another 17 miles above the Salinas Valley before meeting the Arroyo Seco appellation. The vineyards blanket the foothills of the Santa Lucia Range, planted along a series of loamy alluvial fans trickling down from the mountain slopes. The morning sun greets the southeast-facing vines, followed by cooling winds and fog that make their way down from the Pacific. The entire region rests atop a bench, locally called the mesa (Spanish for table), at elevations of 200 to around 1,200 feet, dropping steeply to the valley below.
The Salinas Valley remains lettuce territory, its soil too fertile for quality grape growing. But just opposite the valley floor, the Gabilan Range makes a home to the Mount Harlan and Chalone AVAs, where Pinot Noir shows a profoundly different expression than it does in the Santa Lucia Highlands.
In truth, Pisoni wasn't the first to bring the vine to this corner of Monterey County. Spanish missionaries cultivated grapes in what is today the Santa Lucia Highlands as early as the late 18th century. When Pisoni began to plant Pisoni Vineyards in 1982, he already saw wine-growing neighbors. Rich and Claudia Smith pioneered the region's modern era with the conception of their Paraiso Vineyards in 1973.
But today, Pisoni's vineyards, as well as those owned by his business partner Gary Franscioni, serve as the focal points of the Santa Lucia Highlands. High school buddies, the Garys planted their aptly named Garys' Vineyard together in 1997. Eleven years later they added the Soberanes Vineyard next door. Gary Franscioni also owns Rosella's Vineyard, which surrounds his home, and the high-elevation Sierra Mar Vineyard at the rugged southern end of the region.
These four vineyard properties, as well as Pisoni Vineyards, are the names you'll most likely encounter on single-vineyard wines from the Santa Lucia Highlands. Beyond the little fruit the Garys keep for their respective labels (Pisoni and Lucia for the Pisonis and ROAR for the Franscionis), most of the grapes find their way into the cellars of such illustrious clients as Kosta Browne, Peter Michael, Paul Lato and Siduri. These wineries are joined by a quorum of artisan producers both inside and outside the region whose work verifies the potential for tremendous, hearty Pinot Noir in the Santa Lucia Highlands.
Within the Santa Lucia Highlands alone, Pinot Noir can wear many masks. Speaking broadly, the wines coming from the northern tip offer a brighter, more red-fruited character. Rosewater, sweet spice and bing cherry pith are notes I continually find myself writing for these wines grown closest to the ocean.
Traveling southward down the appellation, Pinot Noir paints itself a few shades darker. Mark Pisoni, manager of his family's eponymous vineyard at the region's southern end, explains, "As the elevations pick up as you go south in the appellation, you're dealing with leaner soils. They tend to naturally have higher tannin levels." These thinner, more granitic soils yield more austere wines with more robust flavor: smoky black cherry, with nuances of balsamic-soaked medicinal herbs.
Gary Franscioni also attributes this darkening spectrum of flavor to the way in which the fog rolls off the bay. During the growing season, the fog can take over an hour longer to reach the southern vineyards than the northern ones. "You start doing that for 90 days over the summer, and it adds up," he says. The southern highlands, beaten by the sun, ripen more quickly and develop bigger, more robust flavors than their fog-shrouded neighbors to the north.
While the flavors may vary drastically, Santa Lucia Highlands wines, more so than many other California Pinot Noir regions, are bound by a relatively narrow stylistic range. In general, producers of Santa Lucia Highlands Pinot Noir tend to favor richer, more hedonistic expressions of the variety, often carrying higher alcohol levels than those from Santa Barbara, Sonoma or the Santa Cruz Mountains. California's brilliant sun radiates through each ripe, fruit-forward drop.
That's not to say, however, that these wines do not reflect a sense of place. They do. They just sing of their terroir loudly, rather than whisper. Gary Franscioni argues that, in fact, this robust style is more a product of their growing conditions than an aesthetic choice.
"What we look for at harvest is a balance of acid and sugar and flavor. But, sometimes before we can harvest, we have to wait for that acid to drop. We're looking for that more than we are looking for sugar level. A lot of our picking decisions are based on flavor," Franscioni explains.
With this approach, the hang time for Santa Lucia Highlands Pinot Noir can last several weeks longer than counterparts in Sonoma or Santa Barbara. Harvest can occur as late as early October, and during this extended time sugars and potential alcohol will rise. But Franscioni is right: Almost none of these Pinots lacks acidity. A briny, oceanic salinity threads its way through and energizes each of these muscular wines.
Mark Pisoni notes that a balanced wine requires the synergy of much more than sugar-ripeness and alcohol level. "I think balance can be over a large spectrum, not just alcohol," he says. "You're looking at the wine as a whole. By looking just at one component — alcohol — you're taking a simple view."
If you're more accustomed to tasting the earthy, ever-leaner Pinot Noirs coming out of Santa Rita Hills or far-coastal Sonoma, you may have to redefine what California Pinot Noir means when tasting from the Santa Lucia Highlands. But that's also what makes these wines so exciting. They transcend the threshold of ripeness we imagine for Pinot Noir without sacrificing freshness. And they're a whole lot tastier than lettuce.
Bryce Wiatrak is a freelance writer. Email: travel@sfchronicle.com
Wines to try
A trip to the Santa Lucia Highlands is unlike one to most California wine regions. Many of the top properties operate tasting rooms in Monterey County's more tourist-visited areas of Carmel and Carmel Valley. A select few of the most prestigious wineries don't have traditional tasting experiences at all, but can be contacted for individual appointments.
2015 ROAR Rosella's Vineyard Santa Lucia Highlands Pinot Noir, $58: Of all Franscioni's vineyard properties, Rosella's consistently rewards with the most floral, aromatically intoxicating Pinot Noirs. The 2015 vintage is no different, a dizzyingly perfumed medley of sagebrush, dried rose petals, violet and white pepper. (831) 675-1681. www.roarwines.com. Tasting by appointment.
2014 Lucia Soberanes Vineyard Santa Lucia Highlands Pinot Noir, $65: The Pisonis operate two labels — the one bearing their family name strictly for the original property, and Lucia for wines coming from Soberanes and Garys' Vineyards. The Lucia 2014 Soberanes demonstrates the appellation in its most hedonistic form. Concentrated and gratifying, the wine flashes flavors of cola, forest floor and ash in a fashion both virile and nuanced. (800) 270-2525. www.pisonivineyards.com. Tasting by appointment.
2015 Morgan Double L Vineyard Santa Lucia Highlands Pinot Noir, $64: Dan and Donna Lee planted their Double L Vineyard in 1996, the name referring to their "double luck" in the birth of twin daughters. The Double L Pinot Noir demonstrates how graceful the wines from this northern end of the Santa Lucia Highlands can be. Tasting of hibiscus, potpourri and raspberry coulis, the wine celebrates these two decade-old vines in their sweet spot. 204 Crossroads Blvd., Carmel, (831) 626-3700. www.morganwinery.com. Tasting room open 11 a.m.-6 p.m. daily. Fee: $12
2014 Talbott "Logan" Sleepy Hollow Vineyard Santa Lucia Highlands Pinot Noir, $27: Talbott's entry-level Pinot Noir is one of the greatest values to come out of the region. Juicy and downright delicious, the wine smells of cherry blossoms, sweet candied sage and cayenne pepper. 25 Pilot Rd., Carmel Valley, (831) 659-3500. www.talbottvineyards.com. Tasting room open 11 a.m.-5 p.m. daily. Fee: $15-$20
2014 Testarossa Doctor's Vineyard Santa Lucia Highlands Pinot Noir, $66: Testarossa works with some of the most important vineyards for Pinot Noir not just in the Santa Lucia Highlands, but throughout California's Central Coast. Perhaps their most intriguing Santa Lucia Highlands offering is their Doctor's Vineyard Pinot. Never tethered by its ample body, the wine moves swiftly across the palate, dazzling with scents of anise, jasmine and black pepper. 1 E. Carmel Valley Rd., Carmel Valley, (831) 298-7726. www.testarossa.com. Tasting room open 11 a.m.-5 p.m. Monday-Thursday, until 6 p.m. Friday-Sunday. Fee: $10-$20
River Road Wineries
Within the Santa Lucia Highlands, there are several wineries on or near River Road, making for an easy day of tasting. Start in Salinas and the road south:
Pessagno: Ray Franscioni (Gary's relative) owns Passagno Winery, where he produces Pinot Noir, Chardonnay and Riesling from the Santa Lucia Highlands as well as an array of additional bottlings from the surrounding regions. 1645 River Road, Salinas, (831) 675-9463. www.pessagnowines.com. Tasting room open 11 a.m.-5 p.m. daily. Fee: $15
Manzoni: The Manzoni family has lived in the Salinas Valley since the 1930s, their Swiss ancestor Joseph Manzoni bringing his tradition of grappa-making with him from Europe. Today the Manzonis specialize in Pinot Noir and Syrah coming from their home vineyard. 30981 River Road, Soledad, (831) 675-3398. www.manzoniwines.com. Tasting room open 11 a.m.-5 p.m. Saturday and Sunday. Fee: $10
Wrath: At Wrath, visitors are invited to enjoy a picnic on their expansive terrace overlooking the Santa Lucia Highlands. The winery works with some of the best Pinot Noir vineyards in the region, including the Tondré Grapefield and McIntyre Vineyard. 35801 Foothill Road, Soledad, (831) 678-2212. www.wrathwines.com. Tasting room open 11 a.m.-5 p.m. Friday-Monday. Fee: $10-$20
Hahn: With one of the most spectacular vistas of the Santa Lucia Highlands, Hahn bottles Pinot Noir and Chardonnay from their estate vineyard, as well as a handful of additional Pinots from top properties under their Lucienne label. For an elevated experience, book an ATV tour and you'll get to understand the terroir firsthand. 37700 Foothill Road, Soledad, (831) 678-4555. www.hahnwines.com. Tasting room open 11 a.m.-5 p.m. daily. Fee: $15-$45
Smith Family Wines: The Smith family led the charge in the Santa Lucia Highlands' transformation from farm country to a premium wine region. At their tasting room, you can sample wine from their 1973 Paraiso Vineyard, as well as their other labels throughout Monterey. 38060 Paraiso Springs Road, Soledad, (831) 678-0300. www.smithfamilywines.com. Tasting room open 11 a.m.-5 p.m. Thursday-Sunday. Fee: $15