Celebrate Pinot Noir Day in These Top-Tier Western Wine Regions
Sunset.com
Krista Simmons
8/18/2022
Celebrate Pinot Noir Day in These Top-Tier Western Wine Regions
Cool coastal climates make for a great glass—and even better road trips.
Timothy S. Allen/ Getty
Written byKrista SimmonsAUGUST 18, 2022
Share this story
It can get exhausting to celebrate every food holiday under the sun, but National Pinot Noir Day is one we can definitely get behind. And with so many incredible producers of this earthy variety here in the West, there's a lot to raise our glasses to.
For many years, Pinot Noir's main stomping grounds were in its motherland of Burgundy, France. But these days, you can find excellent iterations from New Zealand, Western Australia, South Africa, Chile, and countless coastal regions throughout the West, from the Central Coast of California all the way up to British Columbia.
Turns out, this particularly temperamental grape variety loves the coast for many of the same reasons we humans do. The moderate maritime climate—characterized by warm afternoons and cool evenings tempered by the cool Pacific breeze—makes for the ideal growing conditionsIn the words of Paul Giamatti in the celebrated cult film Sideways, "Pinot needs constant care and attention. In fact it can only grow in these really specific little tucked away corners of the world. And only the most patient and nurturing of growers can do it, really," he waxed on. "Only somebody who takes the time to really understand Pinot's potential can then coax it into its fullest expression. Then, its flavors they're just the most haunting and brilliant and thrilling and subtle and ancient on the planet."
If you're looking to plan a Pinot-fueled Western road trip to celebrate all the incredible folks who produce it, we've gathered some of our favorite AVAs to visit.
Anderson Valley
Mendocino, California
Mendocino County's far-flung Anderson Valley is a must-visit, especially if you're seeking bang for your buck. Its neighbor to the south, Sonoma, has long been known for producing outstanding wines that warrant the price tags they carry. But pioneers like Napa vintner Cliff Lede saw the potential to produce cool-climate varieties in Anderson early on. Lede launched FEL Wines in 2011, which now sells fruit to top producers in the area such as Littorai Wines, Failla Wines, and Peay Vineyards. In the freethinking NorCal spirit, locals are doing some wild things with the grape, too. Gowan's makes apple cider using oak-aged Pinot Noir wine grapes. And at wine tasting room slash bottle shop Disco Ranch, you can get a crash course in local wines while nibbling on tinned fish, seasonal sliders, and charcuterie. Check out even more with our guide here.
Santa Cruz Mountains
Santa Cruz County, California
The misty, magical Santa Cruz Mountains are characterized by a cool climate that's not too dissimilar from this Burgundian grape's homeland, so it's no surprise that elegant wines are grown and produced here. While the story of Ridge Vineyard's Cabernet Sauvignon beating out Bordeaux at the Judgment of Paris in 1976 is probably the most famous regional wine story, there's plenty more to be celebrated. You'll find stunning mountain views and equally spectacular wines at Mount Eden Vineyards. At the Pescadero outpost of Sante Arcangeli Family Wines, you'll get to taste on a functioning goat farm, cheese included. For more 411 on wine in Santa Cruz, check out our guide here.
Sta. Rita Hills and Santa Maria Valley
Santa Barbara County, California
The aforementioned film Sideways catapulted Pinot Noir into popularity for the masses (sorry, Merlot!), putting the Santa Ynez Valley on the map for wine tourism. You could do an entire road trip based on Miles' and Jack's misadventures, hitting classics like Hitching Post 2, which recently received a tasting room makeover. But there's plenty more to taste, like Foxen Vineyard & Winery's Block 8 Pinot Noir, a bottling sourced from the iconic Bien Nacido Vineyard that recently received a 98 point score from Wine Enthusiast. Young guns are making moves the region, too, including Gavin Chanin of Chanin Wines, whose 2019 Sanford & Benedict Vineyard Pinot Noir was one of Jeb Dunnuck's Top 100 Wines of 2021. And there are folks doing some great things in terms of sustainability in the area, like Will Henry and Lane Tanner of Lumen Wines, who donate 1% of all sales of their sustainably certified and biodynamic bottles to 1% For The Planet. You can taste their Pinot at their local restaurant in Los Alamos, Pico, and hit up some of our other favorite local spots on your trip here.
Santa Lucia Highlands
Monterey County, California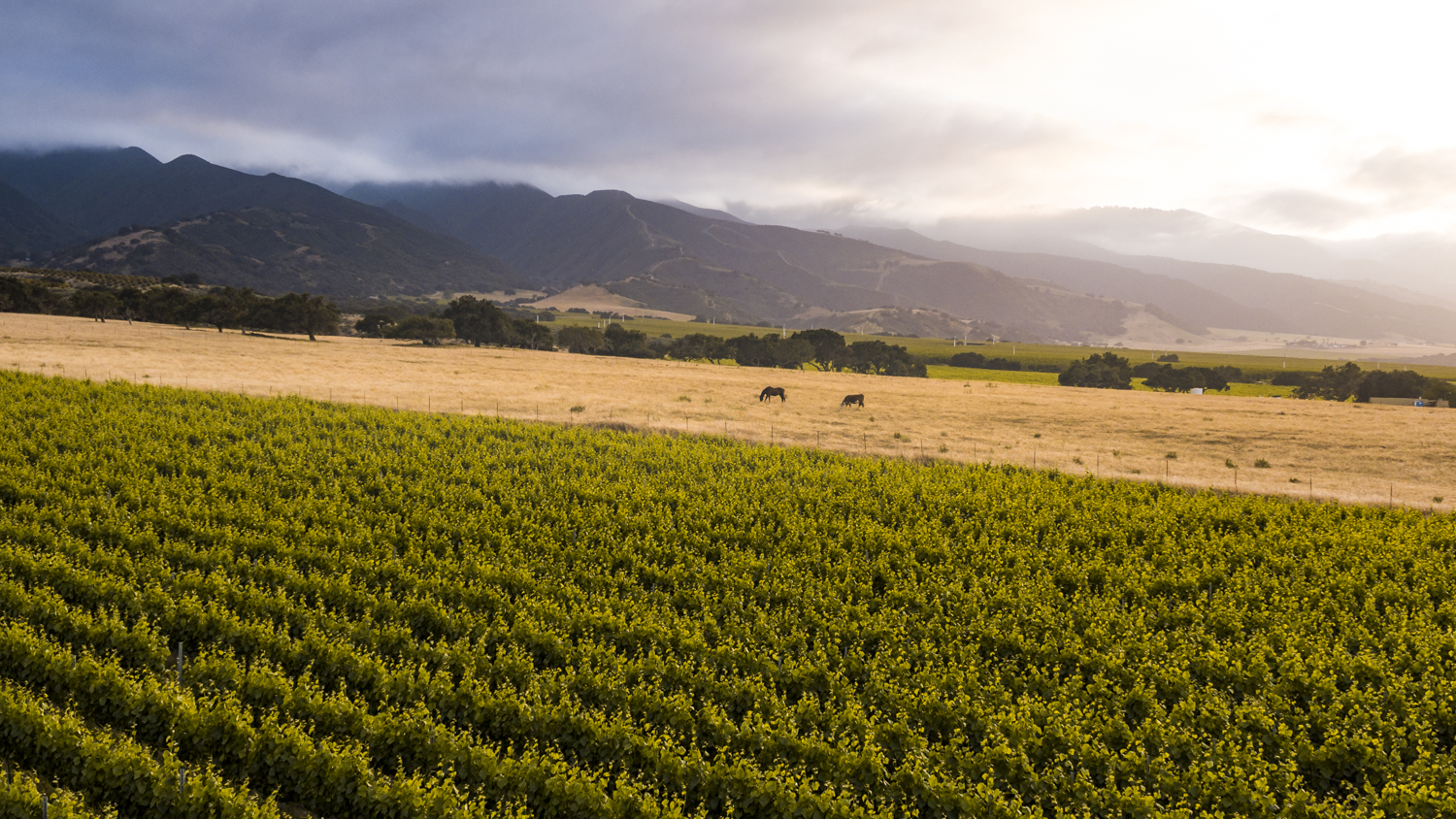 Situated above some of the state's richest farmland in Salinas Valley that's lovingly called the country's "salad bowl," this small but mighty wine growing appellation cultivates some of California's best Burgundian varieties: Pinot Noir and Chardonnay. Generations of growers have reveled in the fact that this region has one of the state's longest growing seasons, making for slow, even ripening and flavor development of the finicky little grape. You can read our guide to exploring the region here.
Russian River Valley
Sonoma County, California
Sonoma County is home to 19 individual AVAs, two of which are particularly great at producing Pinot: Sonoma Coast and the Russian River. The Russian River AVA roughly follows the path of its namesake body of water and is defined by the fog that rises off the river, winding through the Petaluma Gap. It's hard to pick a favorite Sonoma Coast tasting experience, but we're particularly fond of the stunning gardens and grounds at Flowers Vineyards & Winery, whose excellent Chardonnay and Pinot Noir can be ordered alongside a particularly stunning charcuterie and cheese board to share.
Willamette Valley
Polk County, Oregon
David Lett arrived in the Willamette Valley in 1965 at the age of 25 with 3,000 vine cuttings in the bed of his uncle's horse trailer. Eventually, he settled on planting in the Dundee Hills, a region that's now known globally as being a top-tier Pinot producer. He wasn't alone in his gamble on the region. French winemaker Philippe Drouhin, who oversees the family vineyards in Burgundy and Oregon, now also owns an estate in Dundee, with elegant Burgundian style wines being made by fourth-generation winemaker Sophie Drouhin. In typical Pacific Northwest fashion, there are some less conventional tastings on offer, too. At Alumbra Cellars, you can do tastings in a tentwhile enjoying the outdoors. And if you're into a one-of-a-kind al fresco experience, Antica Terra shuffles guests to the stunning Oregon Coast for crabbing and wine tasting. Check out our guide to the area here.