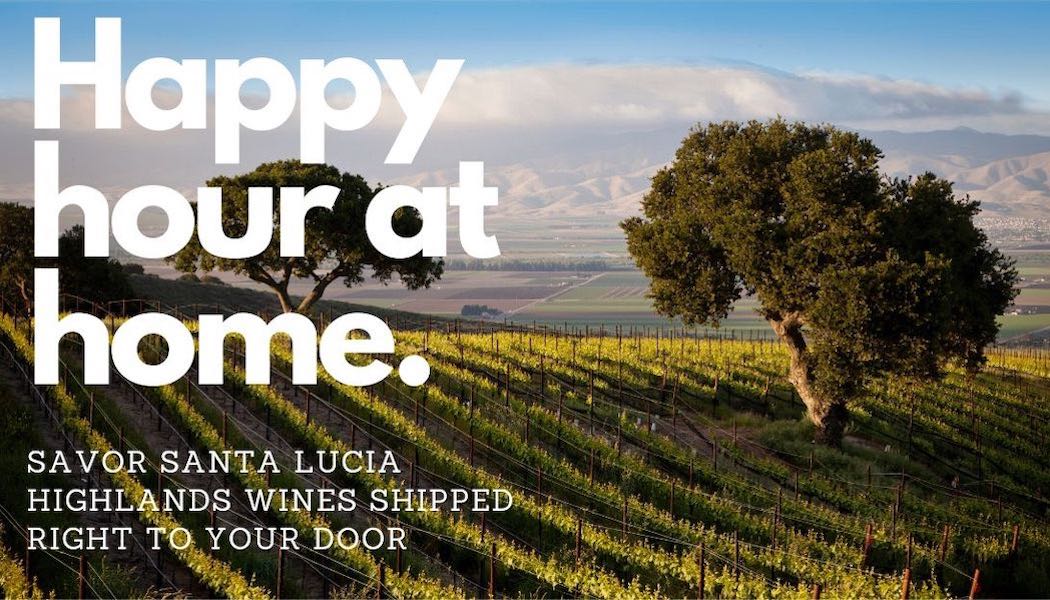 Friday
May
1-30
Happy Hour at Home
Time:
All day, anytime. Local delivery where noted.
Details:
Savor and save with Santa Lucia Highlands wines delivered directly to your home.
To help you stay safe and healthy, our members are making wine delivery as convenient, safe and cost-effective as possible with special savings and offers. No need to leave your home for happy hour! Buy wine with free shipping, or get wine delivered to your doorstep. Offers are subject to change and will only last as as long as we STAY AT HOME!
WINERY OFFERS
(831) 298-8021
Bernardus is offering penny shipping on all wines to help bring a smile to someone's face and wallet. The Bernardus Winery tasting room is closed, no pick-up or delivery available.
www.boekenoogenwines.com
24 W Carmel Valley Road
Carmel Valley, CA 93924
831-659-4215
Tasting room open 11-5 pm daily for curbside and club pickups. Free local delivery to Monterey County on orders over $100. Use coupon code SHIP4FREE to receive free shipping on orders over $100. Wine club members use coupon code BWC2020.
831-662-7722
Curbside pickup is available at the Carmel-by-the-Sea tasting room Thursday-Sunday 12-4 pm. 10% off all other bottles, 25% off for club members, and $10 shipping April 20-27.
603.493.9294
866-925-7994
Mix and match any 3+ bottles for complimentary shipping. Tasting rooms at the winery in Soledad and in Carmel-by-the-Sea are currently closed.
831-293-7505
135 Aviation Way, Suite 16
Watsonville, CA
831-322-4200
Visit our website for upcoming virtual tastings with winemaker Mark Hoover on May 3.
831-659-2885
30-40% off select wines. Complimentary shipping on 6 bottles or more.
Complimentary home delivery on the Monterey Peninsula (including wine club pickups).
7th Ave and Mission St
Carmel-by-the-Sea, CA 93921
831-293-8217
Free local delivery, $1 shipping on 3+ bottles, free curbside pick-up at the tasting room location in Carmel-by-the-Sea. Call 831-293-8217 or email info@koriwines.com to arrange pick up. Tasting room will also be open for retail sales and pick up, no tastings, call ahead.
10% 6-pack discount, 15% 12 bottle discount
831-626-6268
888-202-2006
Shipping included on all wines.
707-967-2657
Our online store and phone lines are open and we can ship directly to your home. Receive an additional 10% discount on any purchase & $1 shipping on any 3+ bottles! This limited-time offer will be automatically applied in checkout. Our tasting rooms are closed until further notice.
Join WALT General Manager Jeff Zappelli on Tuesdays on Instagram Live & Thursdays on Facebook Live at 4 pm PT for our Shelter In Place (SiP) series, "1,000 Miles of Pinot from My Backyard." In each episode, Jeff will take our celebrity guest on a lively virtual journey to a different West Coast appellation as they sip on WALT wines from that region (all from his backyard.) For more information on the wine sets and to purchase, please visit
www.waltwines.com/sip-pinot.
Wrath Wines
831-678-2212
Through Sunday, May 3, you can purchase Wrath's 2016 San Saba Vineyard Syrah for 10% off 2 bottles and if you purchase 4 bottles or more, not only we will give 15% off the purchase but also we'll throw in free ground shipping. If you need more wine, an order of 12 bottles (1 case) receives a 25% discount, plus free shipping. During checkout, use coupon code WSY2 for 2 bottles, WSY4 for 4 bottles and WSY12 to access these offers. Additional wines may be added to your order and will ship for free with an order of four or more bottles.
Monterey County Restaurants
Check-in with Edible Monterey Bay and Visit Carmel for their ongoing coverage of restaurants offering take out and delivery.