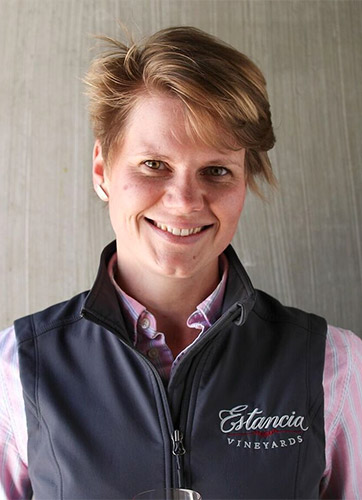 Q
How did you get into wine?
A
My love of agriculture, chemistry and my creativity led to winemaking being one of my options in an aptitude test. I then went on to study Viticulture and Oenology at Stellenbosch University and I have never looked back. I have been very fortunate to have traveled and worked in many countries, with an array of varietals and with awesome people. Wine is a living thing and it is wonderful to be able to craft something with the potential to be enjoyed, by people all over the world, for years to come as it evolves and matures in the bottle, each vintage telling its own story.
Q
What is your idea of a perfect weekend?
A
Being outside in short sleeves until late at night- camping, paddle boarding, building a big fire and having a 'braai'- South Africans are known for cooking anything and everything on open flames!
Q
What do you love most about the Santa Lucia Highlands?
A
The topography of highlands allows fog and coastal breezes to move through the valley and create a long, even growing season makes it special on its own. While it's rich soils produce healthy canopies that drive powerful flavors into the grapes. I also love the wine community that we have in the Santa Lucia Highlands. We are all very passionate about this little gem. The human factor of each wine region is a significant part of the terroir.
Q
What do you like to pair with wines from the Santa Lucia Highlands?
A
I love drinking SLH Pinot Noir in the summer time. It's a bright red that you can drink all year, but is especially great on the warm summer nights on the central coast. I think SLH Pinot Noir is great with grilled foods. My favorite is a Rosemary skewer of Prunes stuffed with blue cheese and walnuts, wrapped in bacon, grilled on an open fire.
Q
What is the best thing about being a winemaker?
A
The smell and sound of harvest! While grapes are being destemmed, the whole winery comes alive with the smells of each varietal. At Estancia, harvest it is a reunion and celebration of old friends that have been returning to Estancia to work harvest over the last 15 years. There is constant laughter, bursts of song and joyful comradery!
Q
What wines are you drinking right now?
A
I am fortunate to work for a company that has such a fantastic portfolio of stellar wines. I religiously follow the evolution of the Estancia, Stonewall Reserve Pinot Noir, to really understand how each vintage translates into the bottle. I always have many bottles of wine open. At the moment there is: Estancia Stonewall Pinot Noir 2014, Kim Crawford Wild Grace Chardonnay 2014 and Cederberg Cellars Chenin Blanc 2017. I drink other people's wine, daily, because as South African winemaker, Eben Sadie, says-"I cannot learn from what I'm doing, I can only learn from what others are doing."
Q
If you weren't a winemaker, what would you do?
A
Most likely a nature conservationist in South Africa. I am very blessed to have grown up surrounded by incredible African wildlife and it is something that I am very passionate about. I am particularly fascinated by the Big Cats.
Q
What do you do for fun when you're not working?
A
I am a keen wildlife photographer, bird watcher, succulent collector and outdoor explorer. I am also obsessed with fabric and can spend hours packing and unpacking my collection of treasures.